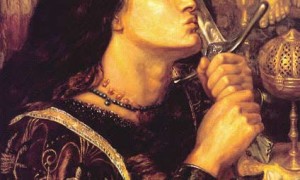 THE RADIO THEATRE PROJECT
Live! radio theatre presented by The Studio@620 and WMNF
7 pm Monday, May 20, '13
Studio@620
620 First Ave So, St Petersburg, FL
DARK NIGHT OF THE SOUL by James Armstrong. Director TBA
"Dark Night of the Soul" tells the familiar story of Joan of Arc in a new way, distilling its passion into the few days at the end of Joan's life. The action moves swiftly between a cell and a large hall turned into a makeshift courtroom where the radio audience becomes the judges of Joan's final trial.
James Armstrong has had his plays performed at several NYC theatres including Playwrights Horizon, The Epiphany Theatre and Abingdon Theatre Company. He earned his MFA in Dramatic Writing from Carnegie Mellon University School of Drama and is a member of the Dramatist Guild.
NIGHT WORDS written and directed by James Rayfield
"Night Words" is a funny short play about a couple who try to make their love life spicey but safe.
James Rayfield has been a theatre educator, director, sometime actor and writer in the Tampa Bay area for almost fifty years. Bad Love, a series of humorous monologues by Jim, was recently performed at Studio@620. RTP Live! performed his Eugene Oregon and the Best Sandwich Case in January and The Chatterbox Café last season. Rayfield has published eight plays for teens, taught at Blake High School and Patel Conservatory and has been the Artistic Director of the Young Dramatists Project for the past six years
THE CONTINUING ADVENTURES OF NOEL BERLIN, CABARET DETECTIVE, by Matt Cowley and Paul Wilborn and directed by Ron Satlof
The seventh episode in the ever-so-popular continuing series written especially for the RTP Live! Ensemble by Paul Wilborn and Matt Cowley features the Ensemble members cliff hanger episodes with cabaret music and stunning sound effects. Each week Noel and his girlfriend Belle, try to unravel a mystery wrapped in an enigma that leads them closer and closer to a shimmering, upside-down pyramid floating in the bay off downtown St. Petersburg.
Paul Wilborn is Artistic Director of The Palladium and RTP Live! Ensemble member. Matt Cowley is WMNF -88.5 FM Web Manager, producer of WMNF Soundstage Audio Theatre and RTP Live!'s Foley master. Both Cowley and Wilborn's plays have been performed by The Radio Theatre Project.
Admission is Free
Live performances are interpreted for the deaf
Learn more about RTP Live! at www.radiotheatreproject.org